Dual Horse & Cart
(page 517)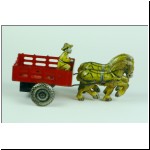 As (

12

) but with lime green horses.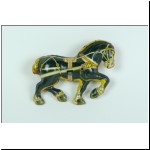 Tinplate horse as in (

7

) to (

12

) but black with orange and white harness. Marx made horses with quite a range of colours for these clockwork carts.

Sparkling Climbing Tractor
(page 517)

As (

19

) but friction-driven rather than clockwork.

Tricky Tommy Tractor
(page 518)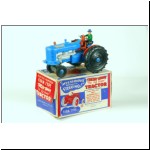 As (

22

) and (

23

) but blue, and with black plastic wheels. These wheels usually indicate a Hong Kong version, and indeed the model has a small Hong Kong roundel next to the tool box on the right-hand side. Nevertheless, it is in an original Swansea box as (

22

), so Hong Kong models may have been sold in these boxes, and we have not yet seen a Hong Kong box.