Large scale wooden non-mechanical Fordson-type Tractor with Trailer

(page 170)

As (

20

) but in a box covered with pictures of Chad Valley Toys and with an illustrated lid showing the tractor and trailer against a rural landscape.

Wee-kin no.9503 Clockwork Tractor (page 171)
As (

33

) but with a pink shirt on the driver. (The gap between the mudguard and the rear wheel is enlarged because of a bent axle.)

No.9235 Fordson Major Tractor (page 171)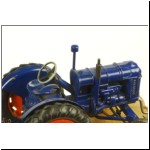 As (

36

) but with a black exhaust.