Company History


Gaiety Toy was the brand name of Castle Art Products Ltd. The company was incorporated on 5 March 1946. They were listed in the telephone directories from 1947 as 'toy makers' at 48 Thornton Road, Birmingham 8, and later were listed as 'pressure die casters' and had additional premises. They were still in business in 1983 (later phone directories are not available in the online archives).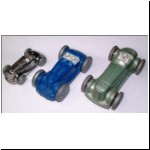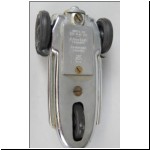 Gaiety Toy made a small range of diecast vehicles. There were three racing or record cars in similar but not identical designs, approximately 3", 4" and 5" long. The larger two came with or without a clockwork motor, and all were clearly marked underneath with the maker's name and a castle logo as a trade mark. There was also a Morgan three-wheeled sports car, again with or without a motor, and a small push-along train consisting of a locomotive, tender and passenger coach. Some of the toys had a chrome-plated finish. Around 1950, Gaiety introduced two diecast OO gauge model railway locos. These were sold as 'Gaiety Models' and were available as push-along models or with an electric motor. The toys and models must have been made in reasonable numbers, as they are not rare, but probably were not sufficiently successful to encourage further toy production, and it is believed that Castle Art Products continued as commercial diecasters for the motor industry.


Model

Tractor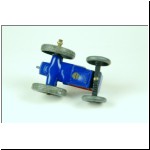 In contrast to the other Gaiety Toys, the tractor is very rare and only this one example has been found so far. No identification is cast on the model, but the underneath view bears a striking similarity to the underneath of the Morgan (see the third photo in the top row). Like the Morgan, the tractor was held together by a large bolt with a slotted head, and there was a panel underneath, which on the Morgan contained the manufacturer's name and trade mark. This suggests that the tractor may be a pre-production sample model, and the manufacturer's details would have been added to the panel if it had gone into full production. Perhaps the toy was developed during 1951 and then abandoned when zinc was banned for toy production (see the

Introduction

in

Farming in Miniature Volume 1

). The tractor's front wheels appear to be the same as on the large racing car and the blue Morgan (pictured in the top row), except that the stub axles on the tractor pass right through the wheels. The tractor has been restored, and part of the metal casting seems not to be original - perhaps it was broken, or maybe the development of the casting was never properly finished. The model has been repainted with a dark blue body and red-brown bonnet, and it is clearly designed to look like an early Fordson (94 mm long including the towing hook).