Timber Wagon
(page 427)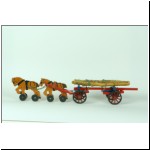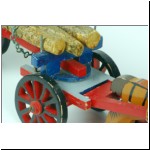 This could be the timber wagon illustrated in the Hobbies advertisement in the 1962 Hobbies Annual (

2

), although the wheels have a lot more spokes than in the illustration. There was a square-sectioned chassis running between the two bolsters, a turntable integral with the front axle and metal pins in the bolsters holding the logs in position. The wagon was painted red, dark and light blue and the wheels had black rims and highlights. The horses were painted light brown, over-painted with black for the harness, mane and hooves, and light brown for the tails. The front horse had chain traces attached to the front ends of the shafts. There were pairs of fretwork wheels on axles through the pairs of hooves. A strip of leather held the shafts on the rear horse, and chains held the logs in place (610 mm).

Large-scale Wagon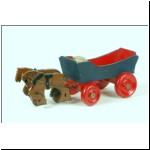 The wagon was cut from plywood, except for the turned wheels on the wagon and two small brown Bakelite or plastic wheels between the horses' hooves. The two horses were cut out of sheets of wood and were painted brown with black details of the harness etc. The traces either side were thin strips of leather. The two hessian sacks may have been supplied as a part of the design (365 mm).

Small Farm Cart

'Designed to match up with the smaller size shire horse, this farm cart can be made up in a few hours' said the Hobbies instruction leaflet. Two coats of polyurethane varnish were recommended as the finish. The moulded wheels were supplied in the pack, but the horse was sold separately. The cart did not tip, and there was no tailboard (260 mm).
Large Farm Cart

This was a much more complex construction with side panelling, removable greedy boards and a tipping mechanism. Large attractively-moulded wheels were supplied, but no doubt the horse was sold separately. Wire stays at each corner helped to stabilise the construction. A fine piece (468 mm).
Paper pattern for a Tractor and Trailer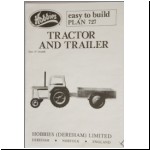 This model was identified in Volume 2 under Hitchin Components (photo (

5

) on page 426) because the rear wheels were made by that company. The assembly instructions simply tell the model maker to use 'suitable wheels' sized 4, 3, and 2 inches, and it is not clear from the instructions if Hobbies provided the 'suitable wheels'.