Tractor and Four-wheeled Trailer
The tractor and four-wheeled trailer illustrated below were purchased from New Zealand. They have a number of features which link them closely to the Paramount Little Farmer Series tractor and trailer (

22

), but there are also distinct differences. On balance, we suspect that these models are from a new version or copies of the Paramount moulds. Similarities are the tractor grille with three vertical lines and also the seat on the left hand mudguard which is plain without raised lines across it as seen on the T.N.Thomas version. The obvious differences were the yellow solid plastic wheels on the tractor and trailer and the larger size of the trailer. The tractor has three projections on the right-hand side to hold something onto the tractor.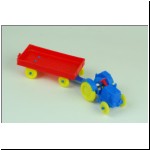 Blue tractor with red steering wheel and yellow solid wheels; red trailer with blue chassis and yellow wheels. Neither has any indication of maker's markings or country of manufacture underneath. The tow hook on the back of the trailer suggests that there may have been other implements to go with this group (187 mm).
These models are shown alongside the equivalent Paramount Small Tractor and Four-wheeled Trailer (as (

22

)) to bring out the differences between them.

Small Tractor
(page 632)

As (

4

) but with yellow steering wheel and driver, and a slightly better version of the

Oxydol

box which was usually damaged by using plastic tape to fix it to the detergent packaging.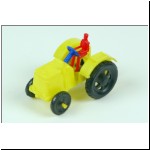 As (

10

) but with blue steering wheel and red driver.

Hay Rake
(page 633)

As (

13

) but with green drawbar and axle and yellow tines and wheels.
The remaining tractors shown here share several of the characteristics seen in the large Paramount tractor (

25

). None carries any markings. They may have been made by Paramount, but it is equally possible that they are copies, made in England or Hong Kong or elsewhere.


Small Tractor
Small-scale blue plastic tractor with red seat and steering wheel and white wheels. Note the similarities with the larger models below, including the position of the exhaust, and the way the square-shaped mudguards drop away to the rear (73 mm).

Medium-size Tractor
This is actually similar in size to the model we described as Large Tractor in the Paramount chapter (

25

). It is very slightly bigger, so probably a copy and not from the same mould. Black plastic tractor with orange accessories (missing steering wheel and gear lever). A hole in the seat suggests that it had a push-on driver (154 mm).

Large Tractor with spoked wheels
Red plastic tractor with white accessories and black spoked wheels (240 mm).
As above but light blue (one headlight missing).

Large Tractor with smooth wheel hubs
Red plastic tractor with yellow wheels and blue accessories.
Light blue plastic tractor with red wheels and accessories (missing seat, headlights and pulley wheel).
Yellow plastic tractor with black wheels and white accessories (missing gear lever, headlights, exhaust and pulley wheel).