Irish Jaunting Car

This was mentioned in the text on page 733 and we are now able to illustrate two examples.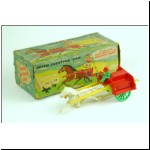 Described on the box as an

EXCITING NEW ACTION TOY IN PLASTIC Comprising CAR, DRIVER AND GALLOPING HORSE

.
The horse was supported on a pedestal extending down from its belly, with a pair of small wheels at the bottom (missing on this example).
A bar from the rear axle to the back foot of the horse created a galloping movement. Red seats, yellow shafts, green wheels, green driver with a red hat and a white horse. The colour combination on the box was different (165 mm).