The wooden items below are all interpreted as manufactured rather than home-made because of their turned wheels and the woodworking skills they exhibit, but none gives any clue as to their origins.


Heavy lead cart
Heavy lead cart with lead wheels, painted red, bare metal wire shafts (75 mm). While this certainly shares some characteristics of Deltoys carts, having wire shafts and similar spoked wheels, we are reserving judgement at the moment.
Crawford's Biscuit Tin Tractor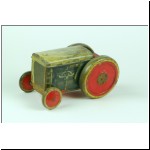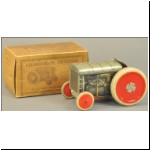 Tinplate biscuit tin on wheels which doubled as a toy.

TRACTOR

was printed above the grille as part of the lithographed decoration on the tinplate.
On the back
was the royal crest with

BY APPOINTMENT

, then

WILLIAM CRAWFORD & SONS LTD, Biscuit Manufacturers EDINBURGH. LIVERPOOL & LONDON GREAT BRITAIN

, and in small print at the bottom

No.10451

(185 mm).

Wooden Tractor and Trailer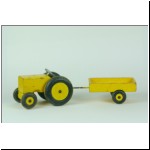 Wooden steerable tractor with cast aluminium steering wheel, wooden trailer with wire drawbar, all-yellow except for the black tyres (tractor 215 mm and overall 465 mm).
Wooden Traction Engine and four-wheeled Trailer
Bakelite steering wheel, metal hooks in place of a drawbar and a bright metal disc on the smokebox door. Traction engine painted green, red and black, with a varnished bare-wood trailer (overall 495 mm).

Wooden Tractor and Log Trailer
Red except for light blue hubs on the tractor rear wheels and trailer drawbar, and unpainted tyres. Nails were used for the exhaust, steering wheel and tow hook on the tractor (overall 510 mm).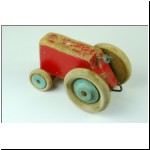 As above but with more deeply turned wheels, and light blue hubs on the trailer.


Small Wooden Platform Trailer
Red, with turned wooden wheels and wire drawbar (148 mm).