We have located several more items with tyres carrying the name Hitchin Components, but it seems likely that the company was not a toy manufacturer and just supplied parts. See the Hobbies page, where we show the plans for the wooden tractor and trailer in (

5

). The plans are for a home-constructed wooden model but clearly using Hitchin Components wheels.

Tractor with large red seat (page 425)
The large red seat fitted to (

1

) was actually plastic, not metal as stated in the book.

As (

1

) but in unpainted wood, with

Mill Farm

printed on both sides. Other differences were the metal exhaust, thinner front wheels with treads and more elaborate plastic rear hubs perforated with seven holes.

HITCHIN COMPONENTS LTD HERTS

was moulded on the inside faces of both rear tyres. The long towing hook was black-painted metal.

Trailer
Trailer to match the above tractor, with what looks like a red plastic bath tub screwed to an unpainted metal and wood chassis (280 mm).

Large Tractor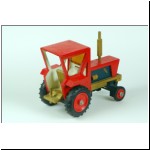 The rear wheels were similar to those of (

1

), (

3

) and (

5

) but the left rear wheel was fitted the other way round. The tyres had the usual

HITCHIN COMPONENTS

moulded on them. Quite an elaborately designed well-made piece, all in wood including the exhaust and front weights. A sheet of Perspex was used for the front windscreen, and only the axles were metal (300 mm).

Large Tipping Trailer
A matching trailer for the Large Tractor. A crank handle and string raised the trailer into a tipping position, and the tailgate was top-hinged, held in place at the bottom with a pair of wooden pegs on chains (353 mm).